Attention Parents:
Here's the EASY way to teach science!
Just click a grade level below to find out which science topics your kids should be learning and which curriculum is best for them.
Your kid can easily learn and do real science and be excited about it!



Are you a homeschool parent? You're a stay-at-home parent, working professional, or somewhere in between, who places a high value on education for your children. You want to make a difference in your child's life but struggle with teaching science and don't want to sell your child short. If you can relate, you're in the right place. The science curriculum you'll find here is self-guiding, so you're kids can do it on their own. Also, it's very hands-on, so you're kids won't be reading boring lessons from a book - they'll be doing real science, like real scientists do in the lab. I promise they will learn more science AND enjoy it more in 2 months that they will from a typical year of "traditional" science education.
Are you a parent whose kids go to school, but you want a better science education for them? If so, you're in the right place. The programs and free resources you'll find on this site are great if you've got a young Einstein who just can't get enough science. You'll find hundreds of science experiments, step-by-step videos and even a place to ask questions for our team of real scientists to answer. Don't let your kids' fascination with science get lost or stifled - I promise, they'll get going in a direction that totally excites them, and where they are learning what they need to (not just for today, but also what they need to get into a great college).
Are you a teacher who is teaching science, but it's not your strongest subject? No problem, I've got you covered. I'll give you complete lesson plans, worksheets and step-by-step videos showing you (or your students) how to do each activity.
Can you relate to any of these?
You don't have time to teach homeschool science, but really want your kids to learn it.

Science is just not your forte.

You get frustrated when you can't answer questions and wish you knew more about teaching science as a homeschool parent.

Your child is thirsty for more science, but you don't know where to start.

Your child is bored with your present science curriculum.
You know you want to...
Provide your kids with an amazing science education they can't get anywhere else
Avoid spending hours learning all the material yourself?
Be able to provide your child with an exceptional homeschool science experience even though you have a limited science background or don't have the time.
Ignite your child's interest in science in a way that can last their entire lifetime
This is why I created Supercharged Science.
Because teaching Homeschool Science should be fun, not hard.
Feel free to look around this website. There are tons of free materials. Probably the best free resources is our"Homeschool Science Experiment & Activity Guide". It's perfect for homeschoolers, parents needing to supplement their kids's science education and teachers. and weekly science experiments. You can get these for FREE right now by clicking here.
The key to a great science curriculum...
Parents send me feedback on our materials all the time...
"I just started your Chemistry unit and have been shocked at how enthusiastic my 12 yr. old son is. I confiscated his slime so he can work on other subjects! I know now to do activities before reading the text to engage him." ~S. Gaines, Atlanta, Georgia
"I love it that I don't have to do a thing! I set my kids in front of the program, and later find them excited and working on something new they created themselves. This program is exactly what we needed! "~Ursula, Santa Barbara, California
"I gave my reluctant 10-year old son your program. Three hours later, he made us late for an appointment because he couldn't tear himself away! He watched the videos over and over and built things I've never seen before. Thank you so much!!!" ~Barbara & Matt, Valencia, California
"Thanks so much for the fruit battery science fair project. She won second place today in 8th grade division! It is an especially meaningful "victory" for us because Lynne has a learning disability." ~Caroline Fetter, North Carolina
"Forget the kids! I'm excited by science now--teaching and learning. I was almost in tears when we saw the videos and started the experiments because I realized that she has something to follow if I get called away. Thank you again for filling a need in my daughter's life." ~Heather S., Toronto, Canada
Hi, I'm Aurora Lipper, owner of Supercharged Science. And yes, there are better, more effective ways of learning science. If you want to spark your child's interest in science, you've come to the right place.
NEW! The e-Science online curriculum for K-12 students is a complete science curriculum. It includes:
Create the fourth state of matter in your kitchen
Build robots from junk
Turn a copper penny into silver and gold
Skim the tabletop with a hovercraft
Shatter light beams as you build a laser light show
...and LOTS more!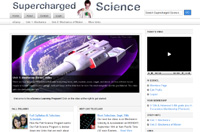 Overwhelmed with teaching science? Get Aurora live in your child's education with our new e-Science Online curriculum!
Aurora will walk you through your science curriculum every step of the way in our hassle-free eScience curriculum.
Get Instant Access to some of my best step-by-step hands-on science lesson videos together with a student guidebook.
Just you enter your email at the bottom of the page and you'll get instant access to this complete mini-science curriculum.
This free sample program includes:
Cool science projects you can start doing right now with easy-to-find materials
Step-by-step videos that show your kids exactly what to do.
Perfect if you don't have time to teach science, or science isn't your thing!
A 17-page student guidebook PDF that includes explanations and questions for each lesson.
My Science Newsletter with lots of great science activities
Instant online access to the videos and guidebook
See how easy it can be for you to go from "Frustrated" about not having enough time or resources for Science... To "Fascinated" by how your kids learn science better than EVER before because now they're enjoying it!
Get started on the right path now by simply entering your email below and getting your FREE Homeschool Science Guide...
Just Enter Your Email Below for Instant Access To Your Free Science Lessons

We value your privacy and would never spam you
© 2014 Supercharged Science. All rights reserved.
3940 Broad St. Suite 7242, San Luis Obispo, CA 93401 | Tel: (805) 617-1789