Thanks for enrolling in my
Online Science Class!
Online Class: Build Your Own Robot
Spark together electric motors, wire up circuits and build your own robot from junk! Create your own whizzing, hopping, dancing, screeching, swimming, crawling, wheeling, remote-controlled robot with this fun class in hands-on science! We'll cover the basics of electricity, magnetism, electrical charges, chassis construction, sensors and more.
This free online class on the science of Robots is on...
Thursday, March. 8th at 12:00 PM Pacific Time
(3pm Eastern, 2pm Central, 1pm Mountain, 11am Alaska)
Kids will truly expand their appreciation for the wonder of the world around them through science.
You'll need to get your materials ready for this class - see below for the Shopping List. 
What age is this class for? For K-12 kids that are interested in science, curious about physics, and more!
Class Length: Approx. 70 min.
NOTE: If you don't have any materials for the class, you can still fully participate! Just join in on the class and Aurora will let you know exactly what to do. These materials are entirely optional if you'd like to do the experiments along with her... but don't feel rushed or hassled if you don't have time to gather them before class. You'll still learn a lot, have a total blast, and Aurora will guide you through each step along the way.
Materials List
block of foam at least 2" on each side
hot glue gun with glue sticks
Optional: small gear that fits onto the motor (you can alternately drill a hole in the clothespin so the motor shaft fits directly onto the clothespin as shown in the image, or you can simply clamp the clothespin right onto the gear when we get to this part)
Drill and small drill bit (the same size as your motor shaft diameter)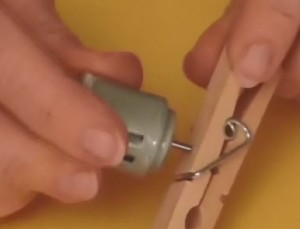 *No materials? No problem… you can still participate even without any materials at all! Just tune into class and Aurora will let you know everything you need to do. She'll also make sure you have access to the experiment videos after class for when you do gather your materials together so you can still perform the experiments.
Frequently Asked Questions:
Is this class really free? Yes. We don't charge for these classes. You'll find instructions on how to access the class when the link above is active on the day of the class.
I live outside the USA. Can I still participate? Absolutely! Just be sure to check the world clock before you class in to verify time and date. We have many participants from the UK, India, Australia, and China (to name a few).
I missed the class! Can I get a recording of the class? Generally we don't offer recording of the class, as they are a live participation event.  But don't worry, we'll have another one soon and let you know when it is.
Is there any preparation I should do for the class? Get your materials for the class ready. If you haven't already, be sure to download our Free Stuff. Otherwise, sit tight and get ready for a fun time!
See you in class!
~ Aurora and the Supercharged Science Team